---
Based on guidance from the City of Austin, our events will be postponed or shifted to virtual events. We will continue to evaluate on a daily basis.
Stay tuned for updates and changes.
---
---
[RE]verse Pitch - Opening Pitch Event
Tuesday, February 26, 2019 (6:00 PM - 8:00 PM) (CST)
Description
During the opening pitch event, you will hear from businesses and institutions consistently generating or collecting by-product, surplus or otherwise underutilized materials streams in Austin, Texas that could be put to higher and better use in new social enterprises. Come to learn more about these products, meet the material generators, and network with other [Re]Verse Pitch participants.
This event is free and open to the public, but your RSVP is requested. Attendance is mandatory to compete for an Innovation Prize.
---
2019 Material Suppliers - See more info here.
The Austin Winery: White and red wine grape skins
HID Global: Poly-carbonate dye-cut plastic sheets
JOSCO Products: Polyester napkins
Texas Oncology: Styrofoam coolers and freeze packs
Travis County: Office chairs
---
Want to compete for a $10,000 Innovation Prize?
Do you have an idea of how you could put one or more of these products to use in a profitable business? Join us! This event is the first step in competing for an Innovation Prize! Check out the Competitor Expectations here.
This year features two categories:
Seed Stage

For: Entrepreneurs proposing a new venture designed specifically for [Re]Verse Pitch or with very young companies/non-profits that have not yet received revenue.

Growth Stage

For: Existing businesses or non-profits that can make use of a [Re]Verse Pitch material. Growth Stage is for post-revenue entities.
Each category winner will be awarded $10,000 plus in-kind consulting, education, and other support in the 2019 Competition. Come to learn more about these products, meet the material generators, and network with other [Re]Verse Pitch participants.

If you're planning to compete for an Innovation Prize: You are required to attend this event to move on in the competition, and it is especially important that you RSVP so we can get in touch with more details on how the competition works!
---
What is the [RE]verse Pitch Competition?
Entrepreneurs are used to pitching their business idea to investors, partners, and anyone they might share an elevator ride with. In this competition, the tables turn.

The [Re]Verse Pitch Competition helps turn valuable raw materials that are currently leaving local businesses, non-profits, and institutions as waste into the raw materials for new or expanding social enterprises. Learn more here.
---
Thank You to Our Event Partners

Thank You to Our Host
Thank You to Our Educational Partner
Capital Factory
Capital Factory, 701 Brazos St

Austin, TX 78701 United States

First Floor Capital Factory Voltron Room
We encourage attendees to use Capital Metro Trip Planner to navigate downtown.

Parking Instructions can be found here.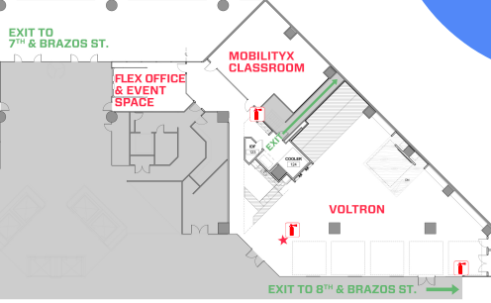 Tuesday, February 26, 2019 (6:00 PM - 8:00 PM) (CST)
6:00-6:20 | Networking & Refreshments
6:20-7:30 | Welcome Remarks & Byproduct Material Pitches
7:30-8:00 | Competitor & Material Supplier Networking
Registered Guests
256