Description
Benefitting Black Fret Austin
Live music is never far away in Austin. While we haven't been able to gather to enjoy and support our local musicians, non-profit organizations like Black Fret have been able to adapt. We're excited to partner with Black Fret to bring live music to your home in a safe way for this Virtual Happy Hour Concert!
Grab your favorite beverage and relax while we bring you THREE local musical acts right to your home. We'll hear from Shiela, Nané, and The Bishops. Learn more about them below!
We'll also kick off the show hearing from Josh Lindsay, a Brewery Educator at Karbach Brewing Company and Certified Cicerone and doing a virtual "CHEERS"!
About Black Fret
Black Fret is a 501(c)3 tax exempt public charity headquartered in Austin, Texas (the "Live Music Capital of the World").
Black Fret is built on the simple idea that local music is art, worthy of community support just like the symphony and the opera have been supported for generations. Their mission is to enable the creation and performance of new music by Austin's exceptional local musicians. Their vision is to build an endowed institution capable of sustaining over a million dollars a year in grants to Austin musicians.
What does Black Fret do?
(1) They provide grants and mentoring to exceptional musicians.
(2) We gather to see our Nominees perform in unique locations.
(3) We seek to build an endowment that allows more grants and more performances.
About the Musicians
Shiela
Shiela is an indie-r&b singer-songwriter from Austin, Texas who draws on Mexican and Nicaraguan roots to make people dance. Her Spanish and English lyrics intertwine to soulfully paint the tensions and emotions of growing up. The artist's self-reflective music embodies her-- it's Latin, a little 90s and funky. Shiela explores the duality of strength and vulnerability over dreamy bedroom-pop beats. Her art leaves the impression of a strong woman.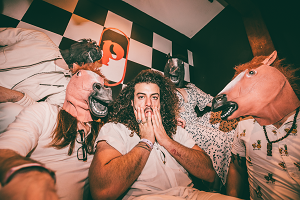 Nané
Nané is an indie R&B outfit from Austin, Texas. They broke out into the Austin music scene in Summer 2019 with a series of sold-out shows shrouded in Stay Gold's glittering curtains. In their 12-month rise, they've played for crowds of over 1,200 people, recorded their debut record, and released their anthemic debut single, "Always On My Mind," which was featured as the Song Of The Day for Minneapolis' highly esteemed station, 83.9 "The Current." Called Nané as a term of endearment by his family in the Dominican Republic, Daniel Sahad determined the band's name with a communal approach in mind – when you call him (and his band) Nané, you're family too.
The Bishops
Sibling tandem, Cara and Troy Bishop weave elements of hip-hop, electronic, pop and jazz to form their multifarious, self-produced sound-simultaneously futuristic and down to earth. Drawing from their shared upbringing, The Bishops channel their musical gifts for both healing and the construction of new dreamscapes and mythologies.
Listen to The Bishops on Spotify
Thank You to Our Presenting Sponsor